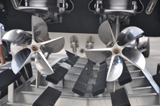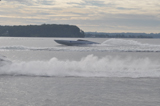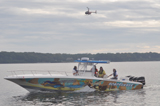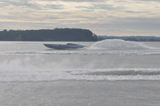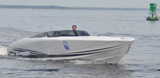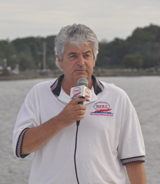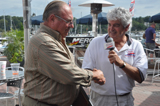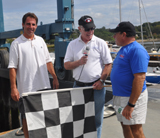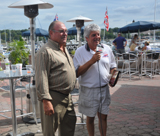 ---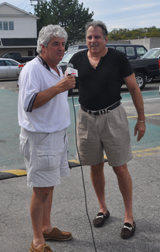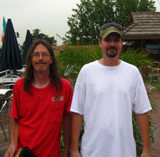 RECAP
A new record has been set for a speedboat to circumnavigate Long Island… 3 hours and 5 minutes, set Sunday, Sept 25, 2011 by Joe Cibellis and Joe Sgro.
They did the 271 mile course, non-stop in a 43' Outerlimits powerboat powered by twin 725 HP Ilmor engines.
This is the comeback of the event that Don Aronow pioneered back in the early 60's. After moving to the JerseyShore in 1970, the event went dormant. It was resurrected last year by the National Powerboat Association in affiliation with the Historic Offshore Raceboat Association, Manhasset Bay Marina and Don's son, Michael Aronow.
---
The previous champion and record holder for this feat was Stu Hayim, of Ferrari of Long Island fame, with Joey Impresscia and Adam Levy as crew, who did it in 3 hours and 6 minutes in 1989 in his 32' Skater with twin 650 HP Eickert engines.
After attempting and failing twice, Stu was able to finish on his third try and establish a new record by beating the 1968 record of Bill Sirois and Fred Kiekhaefer who completed the course in 3 hours and 59 minutes in a 32' Bertram with 475 HP Mercruisers.
---
The Entrants and their results:
19' Monza/Donzi with a 351 Homan and Moody driveline. Brian Zellner and Lon Price from Virginia took the start and made it to Hempstead Bay before the ignition box failed, leaving them with NO-Spark. They were safely towed in.
30' Sonic SS with 350 Chevies, and last year's winner, Connecticut's Joe DeFusco with his son, Joe DeFusco IV, ran their race and made it to the Atlantic Ocean off Montauk Point before losing an outdrive. They came home on the trailer.
42' Outerlimits with 1075 HP's from Brick, NJ, with Dr. Gabe Jasper and Rolf Papke at the helm, diced for the lead at over 100 mph, but lost 'boost' when a tensioner bracket broke causing the belt to fail. They continued on at 60 mph with one motor, until a universal vibration sent them to the trailer at LongBeach.
38' Fountain Center-Console Sport Fish, "Road Runner", with quad Mercury 300 HP Outboards, owned and captained by Norm Salem from Stamford, CT and crewed by Bob Kolenberg, Jim Troy and Dan Pickering of ThinkFast Films, broke the old Outboard Record of 5 hours and 22 minutes by completing the course in 4 hours and 15 minutes.
This boat holds the record as the fastest center-console at 87+ MPH. She is a DUAL TITLE Holder.
25' Active Thunder with 500 HP was captained by owner Chris Philindas of RiverheadNY, and crewed by the 'Phantom Bronx Race Team'. They ran very hard and held third place until Orient Point, where they suffered engine issues and ended up trailering down the Long Island Expressway with a few crewmembers riding in the boat…they got pulled over only once by the Police!
43' Outerlimits with Ilmor 725 HPs, Joe Cibellis and JoeSgro from New York….
They completed the course in
RECORD TIME: 3 Hours and 5 minutes.
..what more can be said?
---
Awards went to Guy Lamotta for his continued support of Offshore Racing, Brian Zellner for the 'Spirit of the NPBA", Norm Salem, the New Outboard Record Holder for Around Long Island, and to Joe Cibellis and Joe Sgro for the new RECORD TIME AROUND LONG ISLAND.

A special 'Shout Out' and Thank You go to Tommy Abraham and Jimmy McIntyre for their help making this event a great success.
---